---
---
Feder mit Fuller according to the rulebook by the ADFD!!! (Swordfencing "light")
Federschwerter for competitive HEMA and tourneys
These Federschwerter are made according to the specifications of the rulebook for fencing with historical weapons, released by the ADFD (Akademie der Fechtkünste Deutschlands / Germanys Academy of Fencing), which is currently in force and valid in Austria and Germany.
They are 132cm long, lighter than 1500g and bend up to 10cm away from the vertical axis when  vertical pressure of 2500g is applied. Therefore, they are admitted for use in all tourneys in Austria and Germany that are fought with the ADFD rulebook in effect.
Note: these blades are very flexible and vulnerable, they may used only under the rules of the ADFD fencing! The warranty terms by these federswords are different from the "usually" federswords!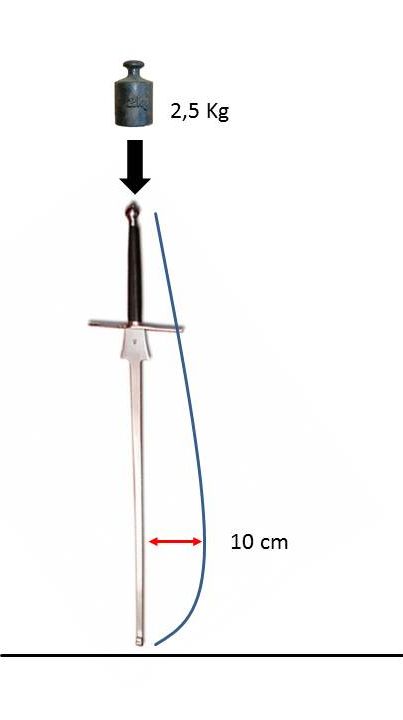 These Federschwerter are lightweight and well balanced, optimised for quick and accurate fencing.
A delicate sense for the movements of your opponents weapon is provided by the rigidness  in the strong and middle of the blade. Simultaneously, the risk of injury from even unapologetic and violent thrusts is heavily reduced by the extreme flexibility of the point and weak of the blade.
The rounding at the tip (point) and the end of the cross is also made to the standards of the ADFD rulebook specifications.
These Turnierfederschwerter are fully-fledged sporting weapons, with Flexible Blade in disassembled Version.
Thickness of the blade (from the point to first 20 cm): 1,3-1,5 mm.
Thickness of the blade by the guard: 6 mm.
Hilt mit Leather covered!
Blade Length: 960 mm

Full Length: 1310 mm

Hilt Lenght: 350 mm (with Pommel)

Length of the guard: 235 mm

Balance point: 50-60 mm from the guard

Weight: 1450 g
Ordered quantity
Disc.
Product Price
1 pc

more than

less than

10 pc
None!
230 €/pc
10 pc

more than

5 %
218.5 €/pc