Let's see how traditional, damask blade is made!. 
In my workshop, I make series, and custom-designed products using traditional technology.
The forging, grinding and polishing hasn't changed significantly over the centuries; However, thanks to technical achievements, this process is greatly accelerated. (The apprentice tired faster than the hammer machine.)
My products are pedominantly hand made, especially the custom-designed orders.
Let's see how a sword is made.
The Blade
Starting Material: the starting material is soft, 51 CRV4 steel
Forging, and Grinding: the blade is formed using these two methods.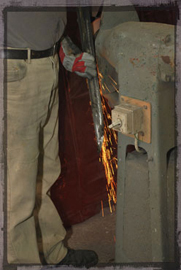 Heat-Treating by Quenching:
the blade is first heated to over 800 Celsius in a kiln, and then quenched in oil. Using this process a 50-54 Rockwell hardness is acheived. At this point, the material is very brittle and must be handled with extreme care. The blade should be drawn as soon as it cools to reduce the risk of damage-  about 200 degrees Celsius.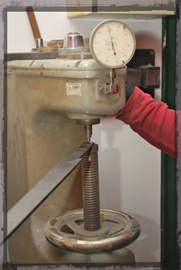 I check the heat-treatment outcome with the sclerometer to ensure a constant quality.
Even:
one problem that must be overcome is the twisting that a blade undergoes during heating and cooling. The solution to this problem is to even the blade on an anvil with a hammer until it becomes straight. The blade must then undergo grinding once more.
Polishing:
the blade is brightened with more fine grit. Afterward, it is polished with woven buffing wheels.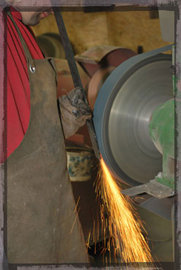 The Hilt
Parts of the Hilt Pommel and the Cross Guard: can be made by forging, sand casting, or precision casting. Some parts are shaped by turning.
Grip: the grip is made from two halves of hardwood, in which the tang is chiseled.
The hilt is then covered by leather or metal wiring.
Assembly:
The correct assembly of a fully functional sword is very important- it must be professional and precise. The tang is a continuation of the blade.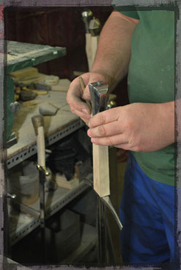 The hilt (where the grip and the cross guard meet) is arched and soft, to avoid the breaking of the blade cross guard.
The cross guard is wedged to avoid the risk of moving during use.
The pommel is riveted just like the old original swords were.